Jak de Priester 20 Jaar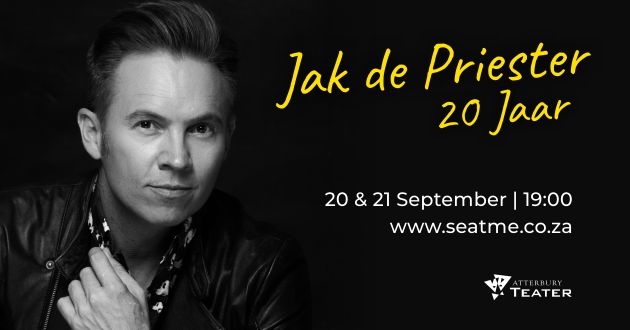 Jak de Priester 20 Jaar
20 September | 19:00 | R230
Tickets for 20 September 19:00

2022 merk 20 jaar sedert Jak de Priester se debuut album 'Sally Williams Nougat' vrygestel het.

Sedert 2002 het Jak de Priester 10 oorspronklike vollengte albums vrygestel plus 'n kinderalbum en DVD, en was by elke fees en op die verhoë van elke groot konsert.

Die laaste 20 jaar was 'n lang reis met meer hoogtepunte as laagtepunte. In hierdie konsert deel Jak de Priester sy reis.
Venue: Atterbury Theatre
Show duration: 90min
Interval: No
Age restriction: None
Ticket price: R230
Wheelchair bookings can now be done online – link available on request. 
Contact us on info@seatme.co.za / info@atterburytheatre.co.za
Unfortunately, due to our terms and conditions we do not offer refunds.
All purchases/bookings made on Seatme are final.