My Vrou se Man se Vrou - Phillru van Achterbergh, Botha Enslin, Marissa Claasen, Danielle Britz, Etienne du Plessis, Hugh Becker en Thiart Li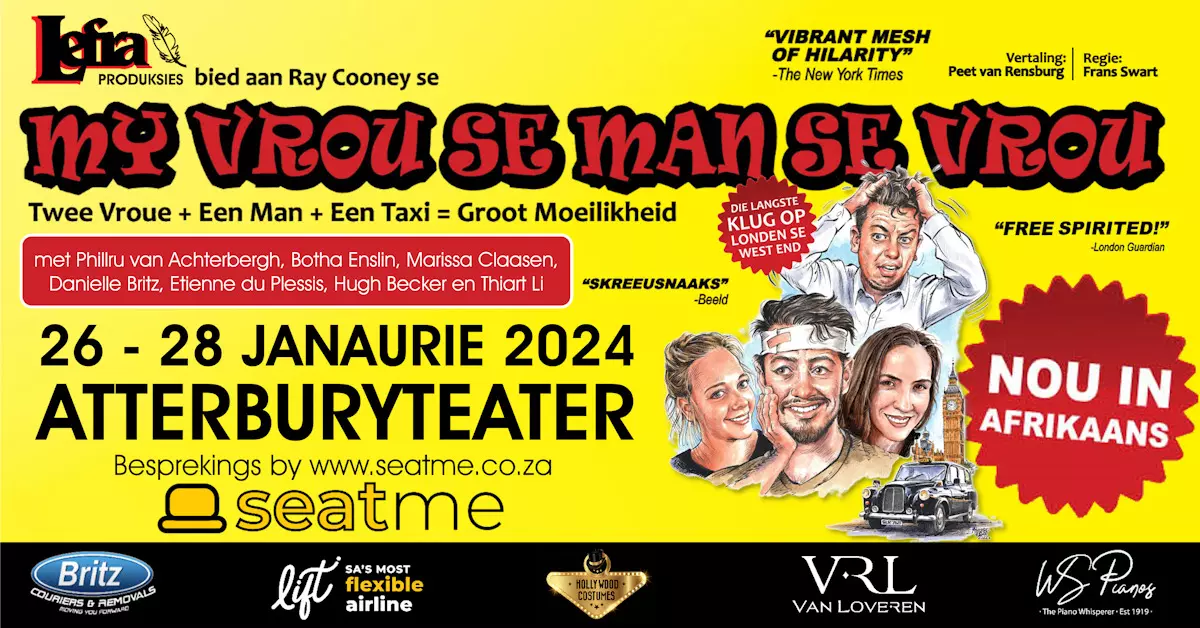 My Vrou se Man se Vrou - Phillru van Achterbergh, Botha Enslin, Marissa Claasen, Danielle Britz, Etienne du Plessis, Hugh Becker en Thiart Li
27 January | 19:00 | R180 - R220
Tickets for 27 January | 19:00

In die opruiende klug My Vrou se Man se Vrou draai die skreeusnaakse intrige om John Smith, 'n taxibestuurder wat in 'n web van chaos verstrengel raak wanneer sy twee wêrelde bots. Want sien, John het twee vrouens… nie skelmpies nie, nee! Hy is met albei wettiglik getroud! Die oorspronklike stuk, Run for your Wife, hou die rekord vir die langs-lopende klug op Londen se Wes-einde en het ook rekords in Suid-Afrika laat spat. My Vrou se Man se Vrou stel ons aan John Smith se twee vrouens bekend: Mary Smith en Barbara Smith. Mary (#TeamMary) is John se eerste vrou, 'n lieflike en naïewe skoonheid wat onbewus is van John se dubbele lewe. Haar onskuld en opregtheid maak van haar 'n lieflike karakter, selfs te midde van die chaos. Aan die ander kant is Barbara (#TeamBarbara), John se tweede vrou, 'n vurige vrou met 'n skerp tong. Barbara se sterk persoonlikheid dra by tot die komiese chaos wat volg namate John se twee wêrelde meer verstrengel raak. En om sake te vererger, moet hy sy nuuskierige bure, 'n vasberade joernalis en twee agterdogtige polisiemanne ontduik!
Venue: Atterbury Theatre
Show duration: 120 minutes
Age restriction: No
Ticket price: R180 – R220
Wheelchair bookings can now be done online – link available on request. 
Contact us on info@seatme.co.za / info@atterburytheatre.co.za
Unfortunately, due to our terms and conditions we do not offer refunds.
All purchases/bookings made on Seatme are final.