My Vrou se Man se Vrou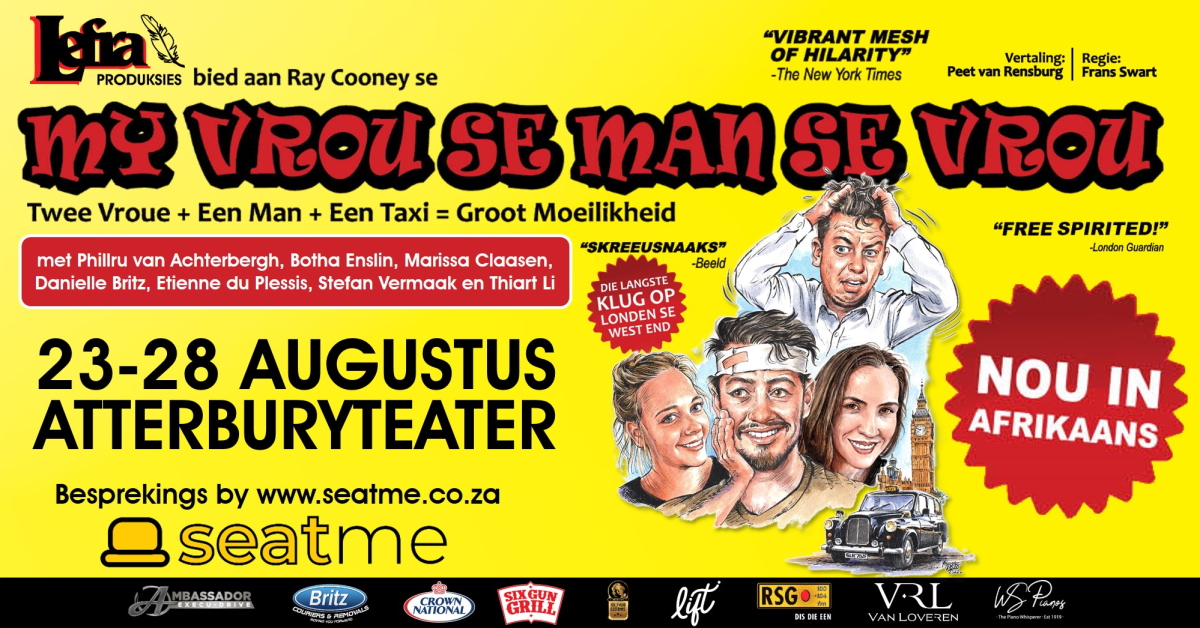 My Vrou se Man se Vrou
23 - 28 August | R180 - R240
– Select the preferred date & time –
Ray Cooney is 'n meester van die klug. Sy Run for your Wife speel al langer as 30 jaar in Londen se West End en Peet van Rensburg het 'n wonderlike Afrikaanse vertaling gedoen in My Vrou se Man se Vrou. Die oorspronklike stuk, Run for your Wife, hou die rekord vir die langs-lopende klug op Londen se West End en het ook rekords in Suid-Afrika laat spat. Die hoofkarakter in My Vrou se Man se Vrou is John Smith, 'n Londense taxibestuurder wat saam met sy vrou Mary in Highgate woon … en ook met sy vrou Barbara in Finchley, net vier minute uitmekaar. Natuurlik is die twee mevroue Smith salig onbewus van mekaar se bestaan, aangesien John sy ongereelde werksure gebruik as 'n verskoning om sy dubbele lewe weg te steek. Maar 'n ongeluk en 'n verkeerde adres veroorsaak 'n kettingreaksie en John moet bontstaan om te keer dat sy geheim op die lappe kom! En om sake te vererger, moet hy sy nuuskierige bure, 'n vasberade joernalis en twee agterdogtige polisiemanne ontduik!

Available seats

Booked seats

Unavailble seats

In another user's cart
Masks are not compulsory
Disinfectant/Hand Sanitizer will be available in the foyer
A vaccination certificate and a negative COVID test is not currently mandatory.
Our theatre capacity is low enough that we do not need to enforce this.