GESELS 2022 - Nataniël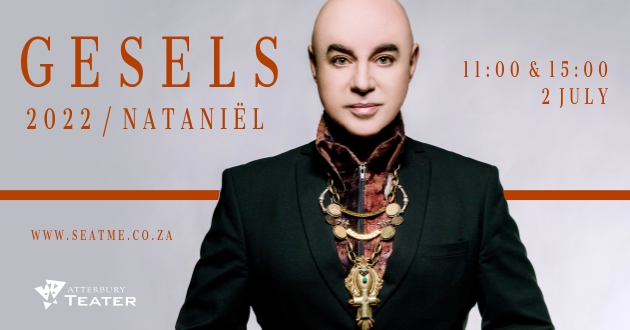 GESELS 2022 - Nataniël
2 July | 15:00 | R290

*This event is currently at capacity.
Nataniël keer terug na die verhoog met sy gewilde GESELS-reeks.
Op publieke aandrang word twee ekstra praatjies op Saterdag 2 Julie aangebied by die Atterburyteater.
Soos elke vorige jaar, het GESELS 2022 'n splinternuwe tema: STORIES!
Die afgelope twee jaar worstel almal met (heel moontlik) die grootste gebeurtenis van ons elkeen se leeftyd. En soos die wêreld op sy kop bly staan, word elke siel meer bewus van homself en dié in sy onmiddellike ruimte.
Elke wese, van vaal tot kleurvol, stil tot uitgesproke, gebroke tot jubelend,  woedend tot dankbaar, loop wetend of onwetend rond met al die kenmerke van 'n goeie storie: Karakter, Krisis, Konfrontasie, Kindertyd en Keuses.
Met meer stories, meer humor, meer vrae, meer antwoorde, meer vermaaklikheid en meer erns vier Nataniël ons stories: Lewensverhale, Fabels, Geskiedenis en Openbaringe.
Gehoorlede kan vrae vooraf in 'n houer plaas, Nataniël bespreek hierdie kwessies dan vanaf die verhoog, 'n hoogtepunt vir vele! 
Saterdag 2 Julie 2022
Atteryburyteater
11:00 + 15:00
Bespreek nou by www.seatme.co.za
Alle veiligheidprotokol word gevolg.
Maskers steeds verpligtend.
Geen kinders onder 15.
Beperkte aantal sitplekke.
Kaalkopwinkel met boeke, keramiek, tuisgebak, geskenke, kers en kombuisolies in die foyer!
Venue: Atterbury Theatre
Show duration: 90min
Interval: No
Age restriction: No under 15's
Ticket price: R290
For wheelchair or special request bookings contact: info@seatme.co.za/info@atterburytheatre.co.za
Unfortunately, due to our terms and conditions we do not offer refunds.
All purchases/bookings made on Seatme are final.