Terminaal 3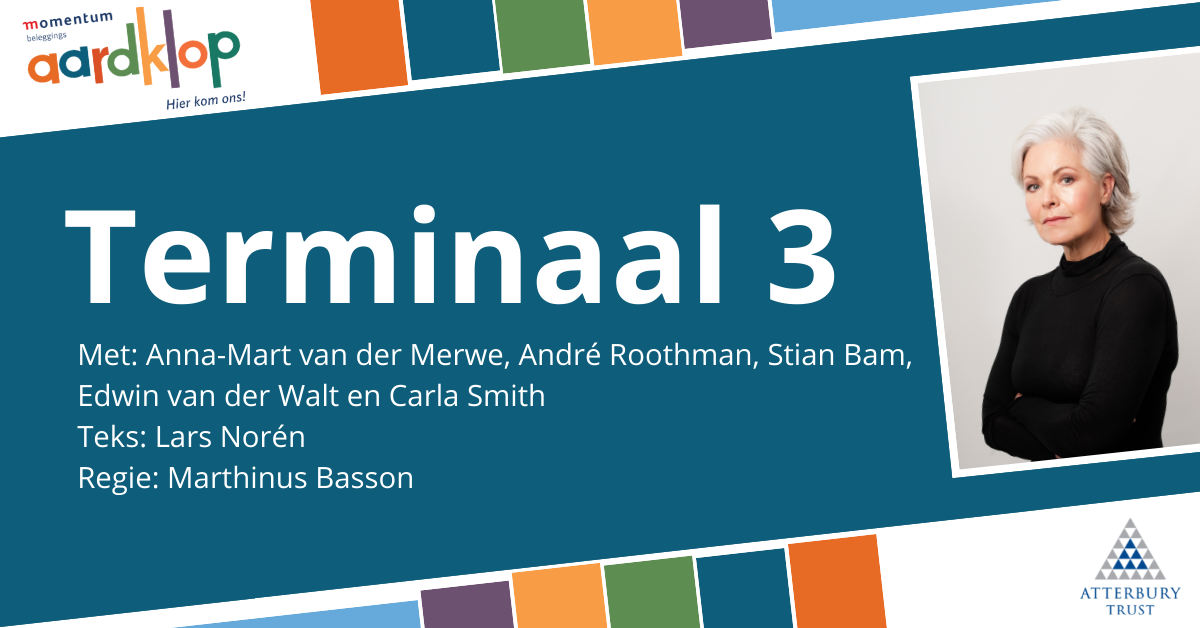 Terminaal 3
1 October | 10:00 | R240
Tickets for 1 October | 10:00

In 'n hospitaalwagkamer wag 'n jong getroude paartjie op die geboorte van hul eersteling, terwyl 'n geskeide ouerpaar wag om die lyk van hul 19-jarige kind uit te ken. Terminaal 3 is 'n aangrypende drama wat handel oor die skade van eiebelang en wat dit aan kinders doen. Dit beloof om een van 2022 se teaterhoogtepunte te wees.  Lars Norén, wat beskou word as die grootste Sweedse dramaturg ná August Strindberg, se werke word wêreldwyd opgevoer en is bekend vir die emosioneel treffende aard daarvan.
" The couples don't interact, but their stories hauntingly reflect and bounce off one another. The puzzle is revealed as the four individuals all seem to be fighting for their particular  lives – not in unison but uniquely alone. It is the way the story is told and played with remarkable aplomb, the discomfort of the viewer as specific dilemmas are discussed and discarded, and the almost clinical way in which life and death are juggled. It's the way we think we can plan our lives, the curve balls that have to be manoeuvred and manipulated, and in particular how both writer and director scramble our thought processes. It's the originality of the piece that delivers the knockout blow." – Diane de Beer
Ons bedink en beplan ons lewens en word soms gemanipuleer deur die realiteit. Die oorspronklikheid van hierdie werk is die ware uitklophou! 
Met: Anna-Mart van der Merwe, André Roothman, Stian Bam, Edwin van der Walt en Carla Smith
Teks: Lars Norén
Regie en stelontwerp: Marthinus Basson
Produksie- en verhoogbestuur en beligting: Nicolaas de Jongh
Assistentverhoogbestuurder: Amber Fox-Martin
Moontlik gemaak deur: Johan Brink Trust
Pretoria speelvak ondersteun deur: Atterbury Trust
Genre: Drama
Venue: Atterbury Theatre
Show duration: 60min
Interval: No
Age restriction: No
Ticket price: R240
Wheelchair bookings can now be done online – link available on request.  Contact us on info@atterburytheatre.co.za
Unfortunately, due to our terms and conditions we do not offer refunds.
All purchases/bookings made on Seatme are final.