Drie van die Bestes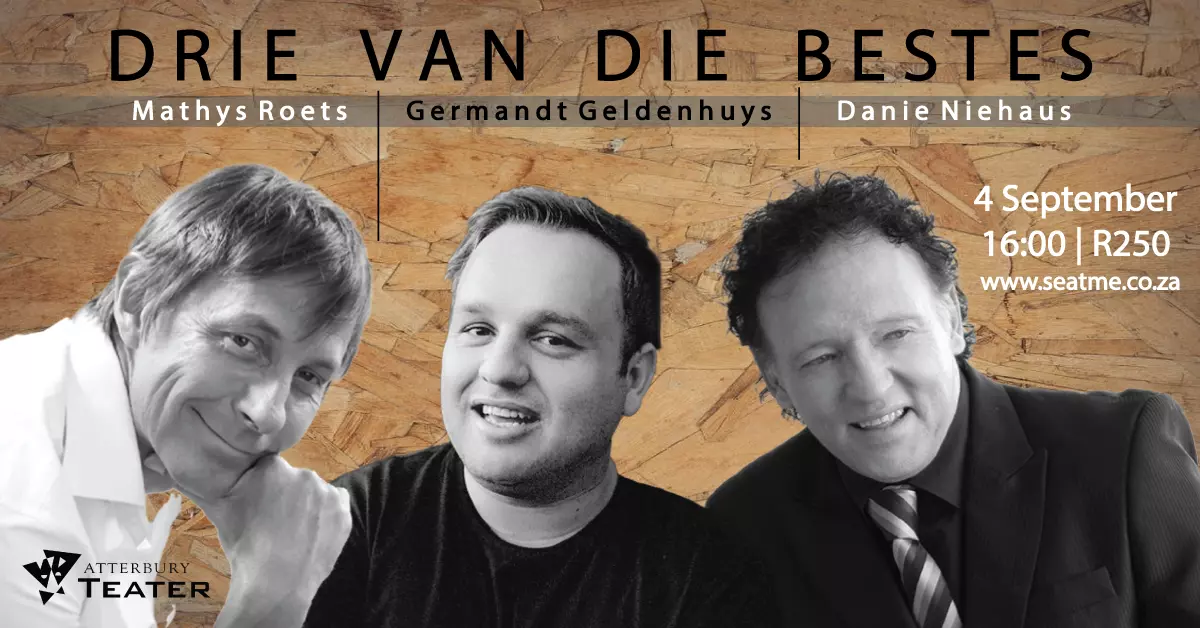 4 September | 16:00 | R250
Tickets for 4 September | 16:00

Danie Niehaus, Mathys Roets, Germandt Geldenhuys. Die samekoms van drie kunstenaars, drie uiteenlopende stemme, drie persoonlikhede – in een produksie op een verhoog: Drie van die Bestes!
Ondanks elkeen se uiteenlopende musiekstyl in hierdie vertoning – van pop, tot ballades en ligte klassieke musiek – is dit veral hul a capella- en samesang wat hul 'n gedugte kombinasie maak op die verhoog.
As solokunstenaars is elkeen in 'n klas van sy eie en elkeen 'n ster in eie reg – Germandt met sy kragtige tenoorstem, Mathys met die rustige, fluweelstem in die laer registers en Danie as bekroonde en veelsydige kunstenaar en liedjieskrywer.
Saam sorg die 3 kunstenaars vir 'n ongelooflike musikale reis!
Venue: Atterbury Theatre
Show duration: 80min
Interval: No
Age restriction: No
Ticket price: R250
Wheelchair bookings can now be done online – link available on request. 
Contact us on info@atterburytheatre.co.za
Unfortunately, due to our terms and conditions we do not offer refunds.
All purchases/bookings made on Seatme are final.