Ben Schoeman - The 150th Birthday of Sergei Rachmaninoff - Music by Mozart, Chopin, Liszt, Debussy and Rachmaninoff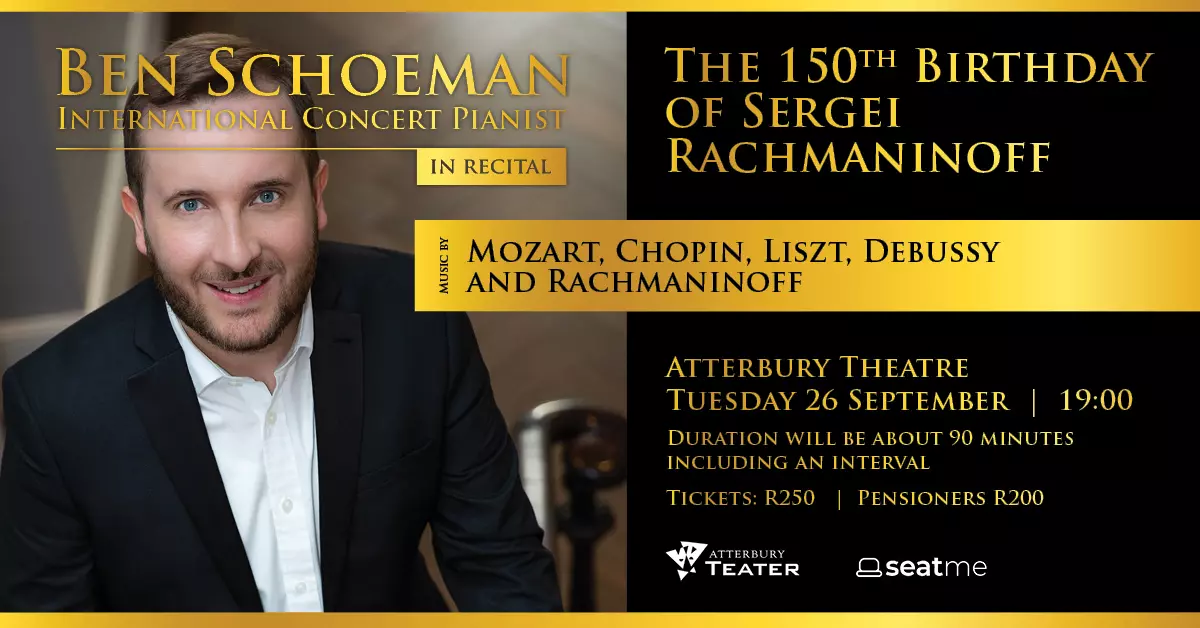 Ben Schoeman - The 150th Birthday of Sergei Rachmaninoff - Music by Mozart, Chopin, Liszt, Debussy and Rachmaninoff
26 September | 19:00 | R200(pensioner) - R250
Tickets for 26 September | 19:00

Ben Schoeman, celebrated pianist and Steinway artist to perform at the Atterbury Theatre.

Internationally acclaimed pianist and Steinway Artist, Dr Ben Schoeman, will grace the stage of the Atterbury Theatre on September 26, 2023, for a landmark recital. Primarily celebrating the 150th birth anniversary of Sergei Rachmaninoff, the evening promises an exquisite journey through time and music.

Dr Schoeman, a first prize laureate of the 11th UNISA Vodacom International Piano Competition and gold medalist of the Royal Over-Seas League Music Competition, will be exploring an ambitious repertoire including works from Mozart, Chopin, Debussy, Liszt, and a special homage to Rachmaninoff.

The programme will present a panorama of the piano literature, starting with the classical elegance of Mozart's Sonata in F major, through the nocturnal charm of Chopin's Nocturne in C minor, to the impressionistic evocations of Debussy's Pour le Piano. Liszt's dazzling "La Campanella" will wrap up the concert's first half.

Following a short interval, Schoeman will delve into the romantic depth and virtuosity of Rachmaninoff's works, including selected Preludes and Études Tableaux, culminating with the Sonata no. 2 in B flat minor.

Schoeman has captivated audiences worldwide with his passionate performances, showcasing his technical prowess and keen musical insights. His recitals have spanned prestigious venues worldwide, including notable appearances at the Wigmore Hall in London, Konzerthaus in Berlin, the Gulbenkian Auditorium in Lisbon, Enescu Festival in Bucharest and Carnegie Hall in New York.

Schoeman's academic achievements are as impressive as his performing career. Holding a doctorate from City, University of London and the Guildhall School of Music & Drama, he is also a senior lecturer in piano and musicology at the University of Pretoria. Schoeman's exceptional contribution to the field was recognised with the Laureate Award and a C1 rating from the National Research Foundation.

Don't miss the opportunity to witness Dr Ben Schoeman's remarkable talent at the Atterbury Theatre, celebrating Rachmaninoff's legacy along with other gems of the piano repertoire.
Venue: Atterbury Theatre
Show duration: 90 minutes
Interval: Yes
Age restriction: No
Ticket price: R200 – R250
Wheelchair bookings can now be done online – link available on request. 
Contact us on info@seatme.co.za / info@atterburytheatre.co.za
Unfortunately, due to our terms and conditions we do not offer refunds.
All purchases/bookings made on Seatme are final.