Afrikaans, taal van my hart
met Mathys Roets & Jacobus Silwer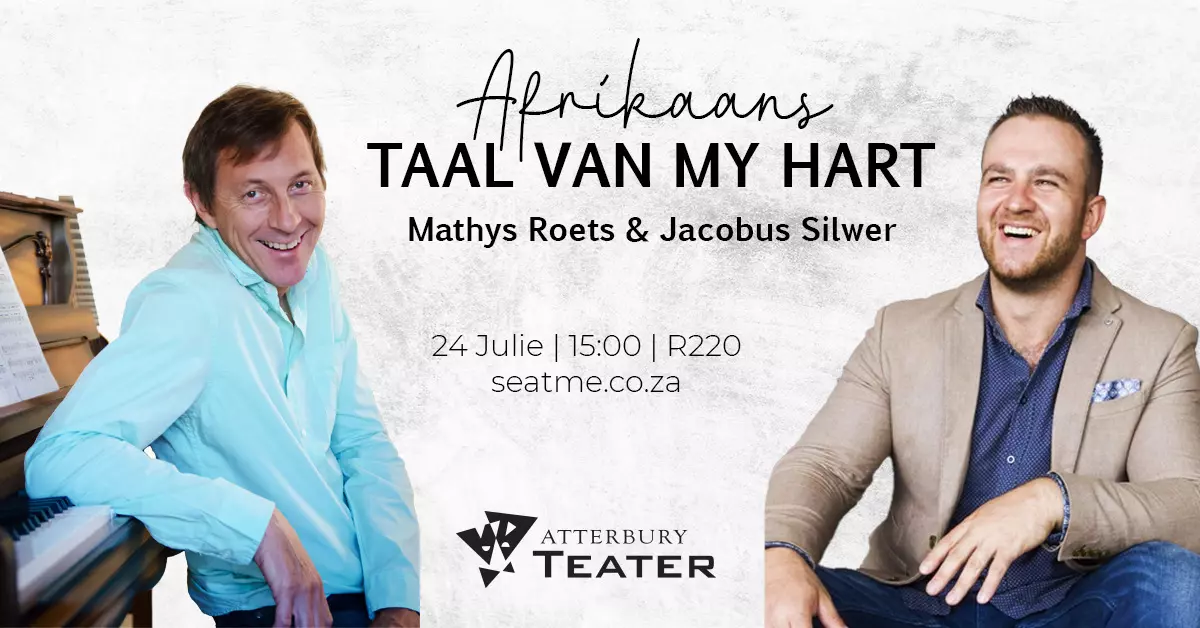 Afrikaans, taal van my hart
met Mathys Roets & Jacobus Silwer
24 July | 15:00 | R220
Tickets for 24 July 15:00

Roets en Silwer gaan saam op reis met die mooiste Afrikaanse musiek van die laaste paar dekades. Met Lisa se klavier, Sonvanger, Vier Seisoene Kind, Droomvrou en Liedjie vir jou, deel hulle 'n reis wat hulle van kleintyd begin het met Afrikaans. Dit is musiek wat almal onlosmaaklik verbind aan herinneringe. Kragballades wat jou vir 'n oomblik laat stilstaan om te onthou!
Afrikaans, die taal van my hart!
Venue: Atterbury Theatre
Show duration: 90min
Interval: No
Age restriction: None
Ticket price: R230
Wheelchair bookings can now be done online – link available on request. 
Contact us on info@seatme.co.za / info@atterburytheatre.co.za
Unfortunately, due to our terms and conditions we do not offer refunds.
All purchases/bookings made on Seatme are final.