Lize Beekman - Gestroop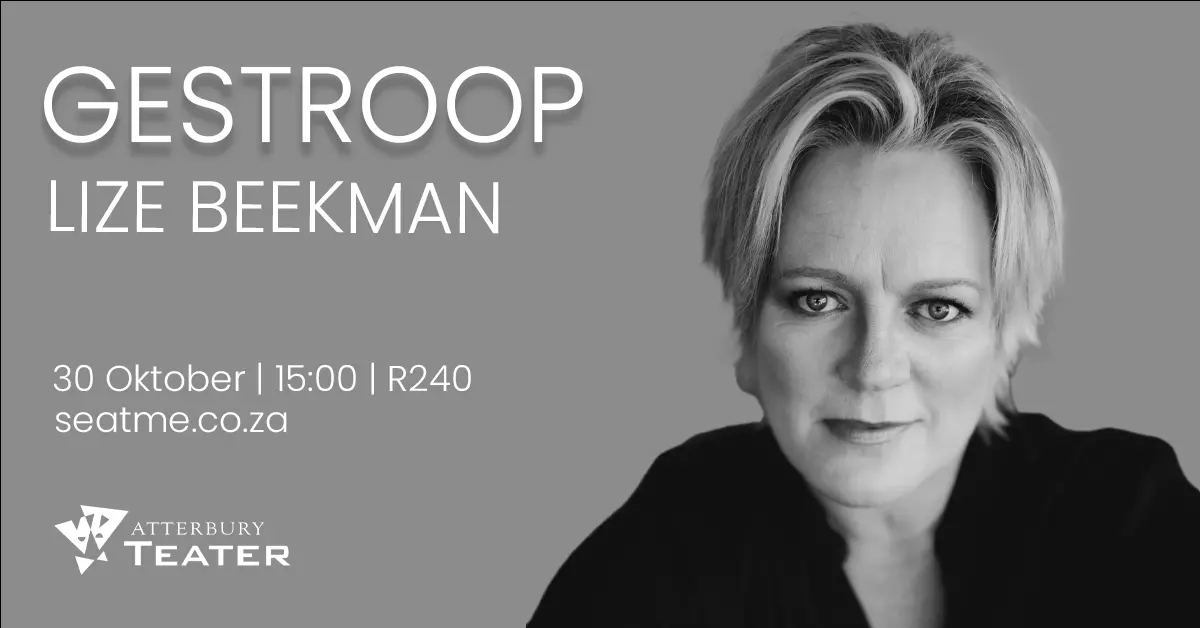 Lize Beekman - Gestroop
30 October | 15:00 | R240
Tickets for 30 October 15:00

Aanhangers van gehalte Afrikaanse musiek en liriek sien al lank uit na sanger-liedjieskrywer Lize Beekman se terugkeer na die Atterbury Teater se verhoog. Oplaas kan aanhangers nader skuif vir haar vertoning LIZE BEEKMAN – GESTROOP op 30 Oktober 2022 om 15h00.  
Lize se sielsverrykende musikale reis strek oor 'n loopbaan van 25 jaar en dis die diepte en eerlikheid van haar musiek wat met Afrikaanse musiekliefhebbers resoneer. Na afloop van 'n nege jaar stilte het hierdie kreatiewe siel weer na vore getree met 'n nuwe album getiteld "Hier en nou" wat bestaan uit 'n uitsonderlike versameling liedjies en dit word deur verskeie gereken as waarskynlik van haar beste werk ooit.
In haar vertoning GESTROOP deel sy enkele van die liedjies op die album vervleg met ou bekendes. Lize skuif agter die klavier in en bring die musiek na haar gehoor in die oorspronklike, gestroopte eenvoud. Al die musiek en lirieke kom uit hierdie gerekende liedjieskrywer se skryfpen.
Die gehoor kan uitsien na musiek wat beduidend is van nie nét Lize se groei as liriekskrywer, komponis en musikant nie, maar ook van 'n diepgewortelde emosionele reis, met liefde en empatie vir mense en die wêreld rondom haar. Dit beloof ook om gewoon net lekker luistermusiek te wees, met van die mooiste lirieke in ons Afrikaanse musiekskatkis en blywende melodieë.
Venue: Atterbury Theatre
Show duration: 75min
Interval: No
Age restriction: None
Ticket price: R240
Wheelchair bookings can now be done online – link available on request. 
Contact us on info@seatme.co.za / info@atterburytheatre.co.za
Unfortunately, due to our terms and conditions we do not offer refunds.
All purchases/bookings made on Seatme are final.