Koos Kombuis by die Atterbury Teater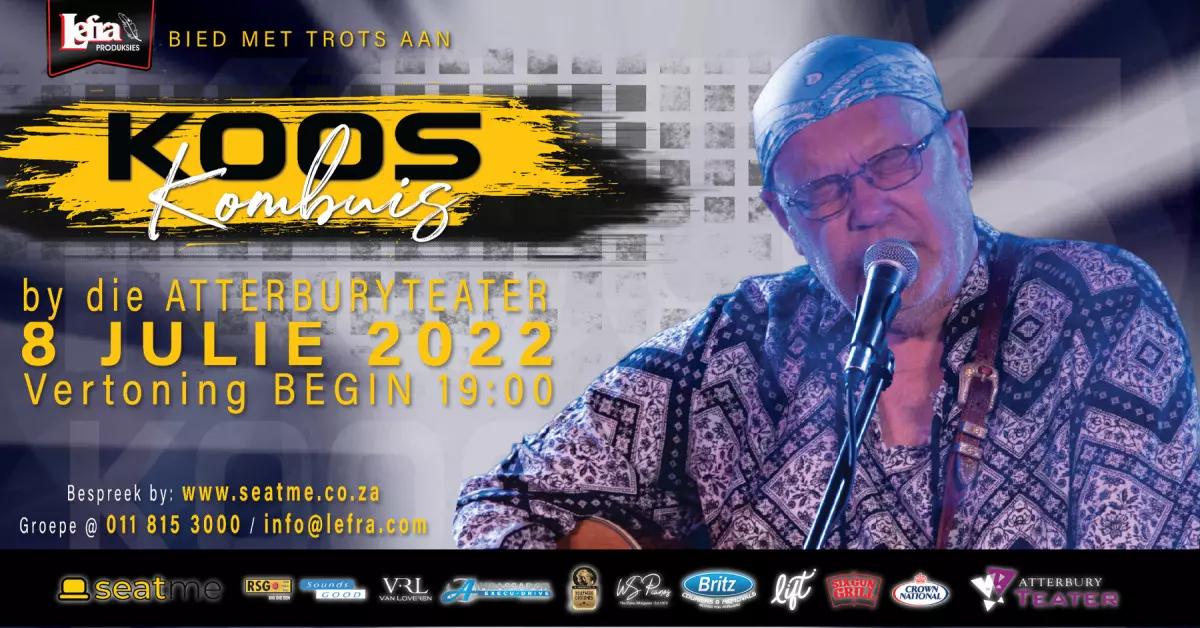 Koos Kombuis
by die Atterbury Teater
8 July | 19:00 | R220

Wat het Koos Kombuis en 'n glas goeie rooiwyn in gemeen? Hulle word albei beter met die ouderdom!

En die goeie nuus is, na 'n afwesigheid van meer as twee jaar is Koos uiteindelik terug in sy gunsteling teater in Pretoria: die ATTERBURY!
Verwag jy ietsie nostalgies? Ja, want Koos sal van sy ou-bekende songs tokkel. Verwag jy iets nuuts? Ja, dit ook! Want Koos wil graag hê jy moet luister na 'n klompie nuwe liedjies en saam met hom besluit watter daarvan hy op sy volgende album moet insluit!

Kom, los jou sorge by die huis, skop jou skoene uit, en geniet 'n aand van lag, huil en… dalk ook 'n glasie goeie wyn saam met KOOS KOMBUIS!
Venue: Atterbury Theatre
Show duration: 75min
Interval: No
Age restriction:  13
Ticket price: R220
Wheelchair bookings can now be done online – link available on request. 
Contact us on info@seatme.co.za / info@atterburytheatre.co.za
Unfortunately, due to our terms and conditions we do not offer refunds.
All purchases/bookings made on Seatme are final.