Dinner for One - Elma Potgieter & Justin Strydom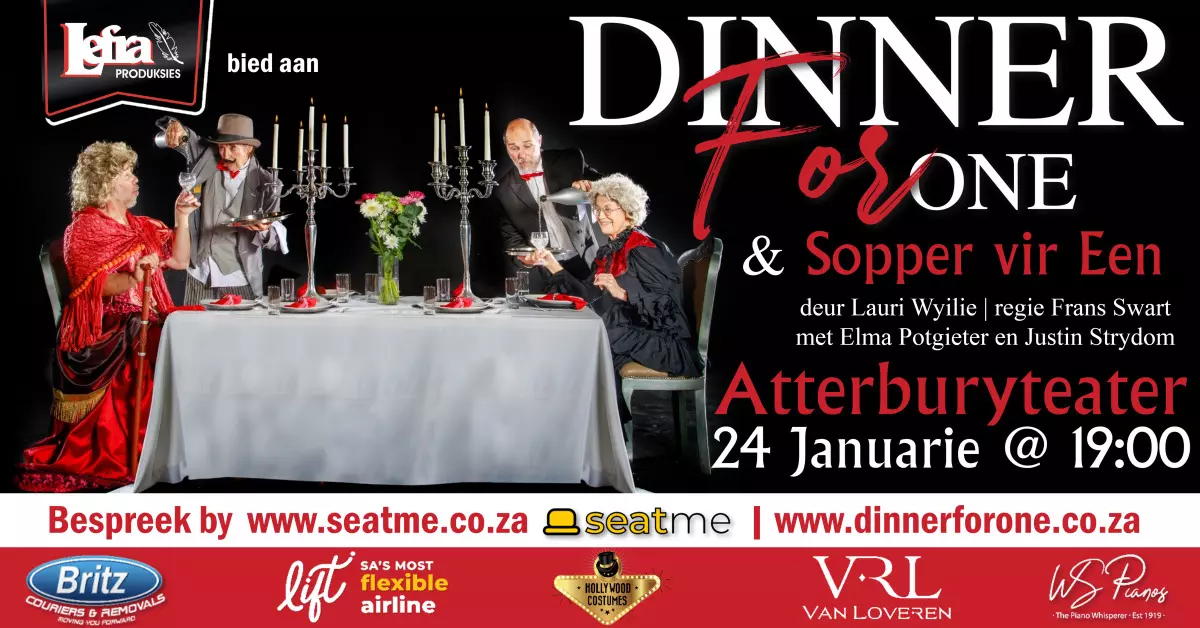 Dinner for One - Elma Potgieter & Justin Strydom
24 January | 19:00 | R180 - R220
Tickets for 24 January | 19:00

Dinner For One (ook bekend as The 90th Birthday), wat op TV nou al 'n Oujaarstradisie is, het in Duitsland kultusfliek-status gekry nadat dit in 1963 in Hamburg verfilm is. Dié uiters snaakse  roomtertkomedie speel af in 'n eeue-oue Britse herehuis, waar die laaste oorblywende lid van die familie, Miss Sophie, haar 90ste verjaardag vier. Die hele skets vind in die eetkamer plaas, met Miss Sophie aan die koppenent van die tafel, en daar is vir haar 'gaste' – wat almal al dood is – plekke gedek. Die butler, James, moet vir die gaste 'n viergang-maaltyd bedien – en daar is vir elke gang 'n drankie! Aangesien nie een van die gaste behalwe Miss Sophie in 'lewende lywe' daar is nie, dring Miss Sophie daarop aan dat
James elke gas se rol moet speel (en dus al sy drankies 'namens' hom moet drink). "Same procedure as every year, James." Hoe later, hoe kwater, en James raak al hoër in die takke … en die spanning loop al hoe hoër elke keer as James nóg 'n rondte om die tafel oorleef sonder om oor die "kop" van die tiervelmat te val. En as 'n bonus is daar ook Sopper vir Een – die Suid-Agrikaanse "spoof"!
Sluit aan by juffrou Sophie se 90ste verjaardagpartytjie by die Atterbury Teater!
Venue: Atterbury Theatre
Show duration: 75 minutes
Age restriction: No
Ticket price: R180 – R220
Wheelchair bookings can now be done online – link available on request. 
Contact us on info@seatme.co.za / info@atterburytheatre.co.za
Unfortunately, due to our terms and conditions we do not offer refunds.
All purchases/bookings made on Seatme are final.