2024: 24 Afrikaanse Liedere van 20 Jaar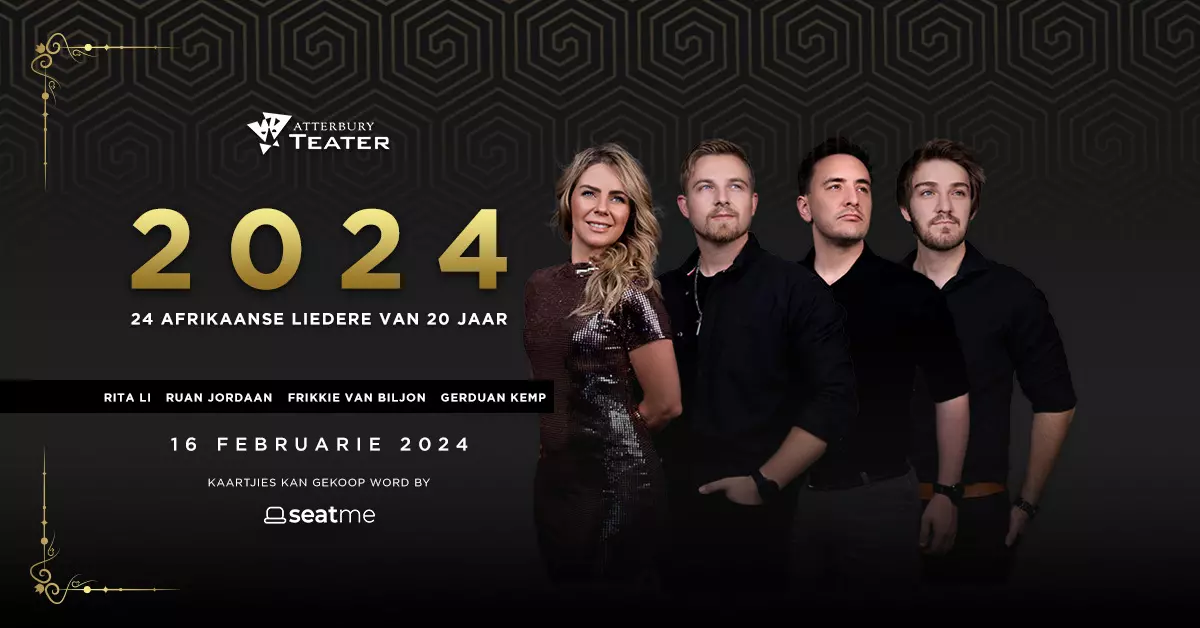 2024: 24 Afrikaanse Liedere van 20 Jaar
16 February | 19:00 | R200
Tickets for 16 February | 19:00

2024: 24 Afrikaanse Liedere oor 20 Jaar is gereed om 'n ryk en boeiende musiekervaring by Atterbury Teater te bied. Hierdie vertoning gaan verder as samewerkende duette, en sluit aangrypende solooptredes van die kunstenaars Ruan Jordaan, Frikkie van Biljon, Gerduan Kemp en Rita Li in. Elke kunstenaar sal hul oomblik in die kollig hê en solo-items lewer wat hul eiesoortige style en vokale bekwaamheid ten toon stel, wat 'n persoonlike aanraking bring aan die diverse versameling van 24 Afrikaanse liedere wat oor twee dekades strek.
Soos die kollig tussen die individuele kunstenaars verskuif, sal die gehoor getrakteer word op 'n reeks emosies en musikale geure, wat 'n tapisserie van herinneringe en refleksies skep. "2024" is nie net 'n viering van kollektiewe musikale bekwaamheid nie, maar 'n huldeblyk aan die individuele kunstenaarskap wat die Afrikaanse musieklandskap gevorm het. Met 'n deurdagte seleksie van liedjies wat by die gehoor aanklank vind, beloof die vertoning om 'n melodiese reis deur tyd te wees, waar elke solovertoning 'n eiesoortige noot byvoeg tot die ryk geskiedenis van Afrikaanse musiekerfenis.
Venue: Atterbury Theatre
Show duration: 150 minutes
Age restriction: No
Ticket price: R200
Wheelchair bookings can now be done online – link available on request. 
Contact us on info@seatme.co.za / info@atterburytheatre.co.za
Unfortunately, due to our terms and conditions we do not offer refunds.
All purchases/bookings made on Seatme are final.