Charl du Plessis Trio - Vivaldi Four Seasons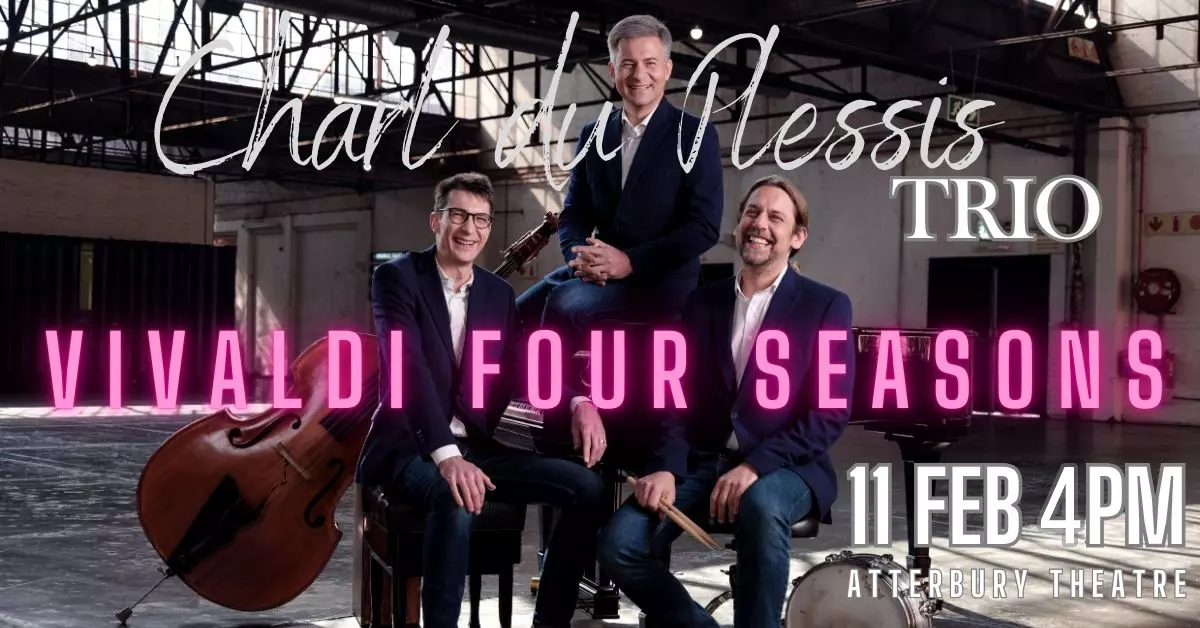 Charl du Plessis Trio - Vivaldi Four Seasons
11 February | 16:00 | R180 - R260
Tickets for 11 February | 16:00

The current combination of the El Niño and global warming phenomena serves as the inspiration for Five Seasons – the latest crossover music production by the Charl du Plessis Trio. Just like the inevitable rise in temperature, audiences will certainly feel the heat in a new, intriguing approach to Antonio Vivaldi's famous Four Seasons. Drummer Peter Auret brings his magic with sophisticated and rhythmic nuances in every movement, while bassist Werner Spies showcases his elegant musicianship in toe-tapping walking bass lines. The virtuosity and refined improvisations of Steinway Artist Charl du Plessis reveal his clever reimagining of these works from the Baroque period. The Vivaldi will be performed complete with some jazz standards as a last musical bon-bon – all related to the seasons. The Charl du Plessis Trio has released nine albums, four of which were awarded with a South African Music Award.
Charl du Plessis (piano)
Werner Spies (bass)
Peter Auret (drums)
Venue: Atterbury Theatre
Show duration: 80 minutes
Age restriction: No
Ticket price: R180 – R260
The foyer doors will open an hour before the show and the bar will be open up to 10minutes before the show commences.
The bar will be closed for the duration of the show.
Wheelchair bookings can now be done online – link available on request. 
Contact us on info@seatme.co.za / info@atterburytheatre.co.za
Unfortunately, due to our terms and conditions we do not offer refunds.
All purchases/bookings made on Seatme are final.