Trou is nie Perdekoop nie - Christel van den Bergh & David Louw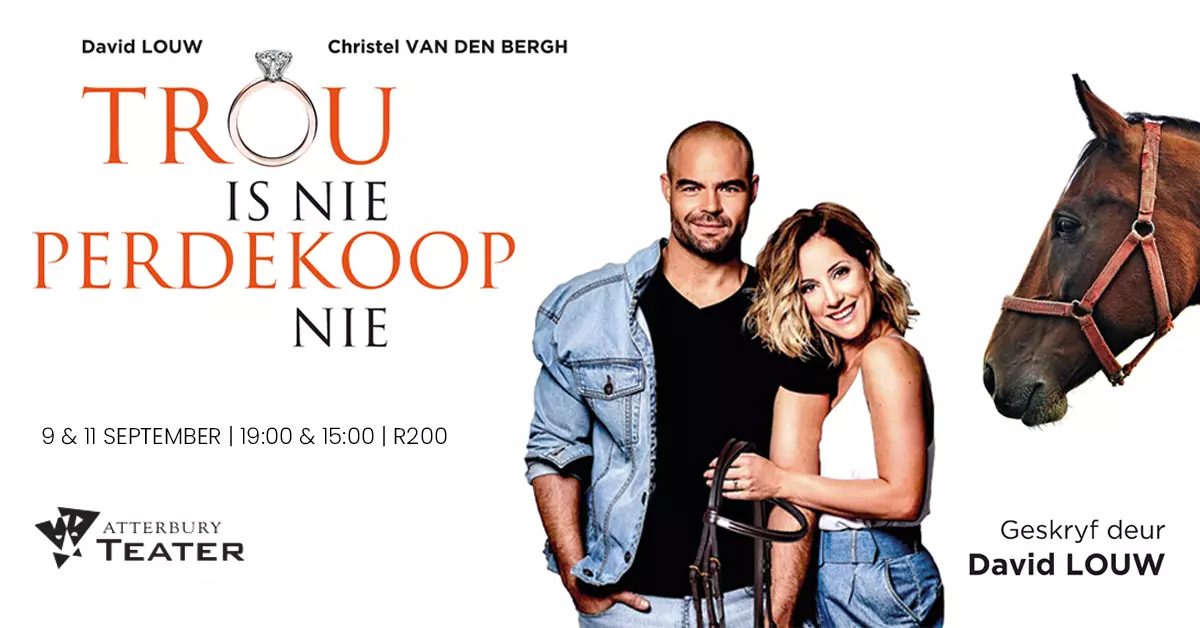 Trou is nie Perdekoop nie - Christel van den Bergh & David Louw
11 September | 15:00 | R200
Tickets for 11 
September 

15:00

Milan en Daniel is n jong "couple" in hulle vroeë dertigs, hulle is ongetroud en is al amper 3 jaar in n ernstige verhouding. Hulle bly in Daniel se ma se "garden cottage" in Westcliff, Johannesburg. Hulle is ñ "power couple". Hulle werk hard, is ongelooflik lief vir mekaar en hulle deel dieselfde "goals" en soek dieselfde uit die lewe… wel soortvan. Milan wil trou en Daniel glo nie daarin nie. "GAME ON"!!!
Vanaand is nie aand wat die poppe gaan dans. Hulle altwee bring hulle "A GAME" en die handskoene kom af. Daniel gaan probeer om Milan se "mind" te "change", Milan gaan vir niks minder as ñ troue "settle" nie. 
Gaan hulle opbreek? Of gaan hulle saam hierdie paadjie aandurf? Gaan hulle hierdie perd opsaal en besef "TROU IS NIE PERDEKOOP NIE" 
Hierdie is die perfekte teaterproduksie vir enige iemand wat al getroud was, wat beplan om te trou, wat wil trou of al daaraan gedink het om te trou, iemand ken wat getroud is of iemand ken wat moet trou, iemand wat al geskei is of iemand wat net in 'n verhouding is.
Trou is nie perdekoop nie.
Venue: Atterbury Theatre
Show duration: 70min
Interval: None
Age restriction: Yes
Ticket price: R200
Wheelchair bookings can now be done online – link available on request. 
Contact us on info@seatme.co.za / info@atterburytheatre.co.za
Unfortunately, due to our terms and conditions we do not offer refunds.
All purchases/bookings made on Seatme are final.