Dan Patlansky - Movin' On (Album Launch)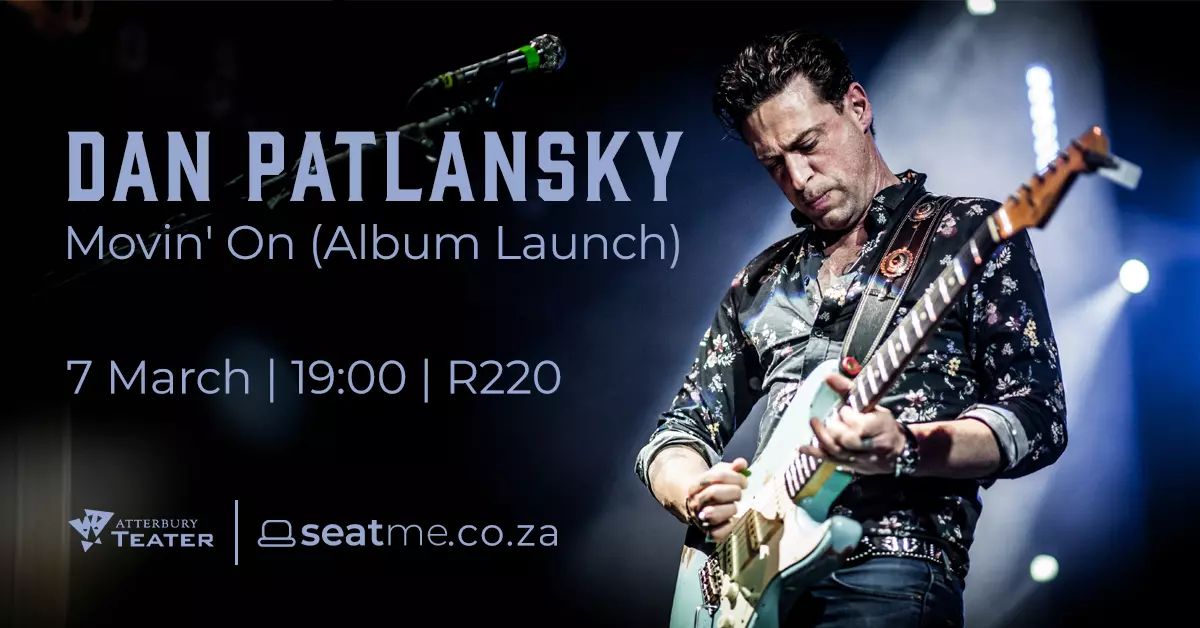 Dan Patlansky - Movin' On (Album Launch)
7 March | 19:00 | R220
Tickets for 7 March | 19:00

With a discography of 10 studio albums and more than a decade of being revered as a global blues icon, DAN PATLANSKY has solidified his status as one of the most exceptional blues-based storytellers of his generation, earning legendary recognition worldwide. In 2024, DAN will be adding to his catalog of music with the release of his 11th studio album, 'MOVIN' ON' in March 2024.
The album comes after the release of his previous album, 'Shelter of Bones' in 2022, which was voted #2 Best Blues Rock Album of 2022 by Blues Rock Review USA. Voted the #4 Best Guitarist in the world, DAN – alongside Joe Bonamassa – remains the only artist in the world with two worldwide #1, as well as two worldwide #2, Best Blues Rock albums to his name, as voted by Blues Rock Review USA.
DAN started writing MOVIN' ON in January 2023, collaborating with a writing trio comprising himself, Andy Maritz, and Greg Van Kerkhof. Marking a departure from his prior work and opting for a different approach, he consciously chose not to rely primarily on his own solo writing. DAN describes Andy and Greg as exceptional songwriters who introduced a distinctly fresh perspective and approach to the creative process.
The album was produced by DAN PATLANSKY and Andy Maritz and recorded at Andy's studio in Johannesburg, South Africa called Drumheadz. DAN chose Andy as co-producer because he understood and shared his vision for the new record and was willing to record the new material according to his desired perspective.
"MOVIN' ON is all about going back to my roots musically; playing and writing music that I love the most. This is without a doubt my most honest and raw offering to date. The older I get, the more important it is for me to play what I truly believe in." – DAN PATLANSKY.
DAN describes the album as a no-nonsense, unforgiving and relentless time capsule of how he wants to be remembered. Even with the recording of the record, the focus was to strive for a sound as authentic as a live performance with as little polish and editing as possible.
"My new record is a true representation of myself as an artist, and more importantly – the way I want to be known as an artist. Rediscovering myself, remembering what makes me tick musically, and leaving the past far behind are all themes throughout the album. I wanted to make music that I love without worrying about commercial ideals."
Venue: Atterbury Theatre
Show duration: 95 minutes
Age restriction: No
Ticket price: R220
Wheelchair bookings can now be done online – link available on request. 
Contact us on info@seatme.co.za / info@atterburytheatre.co.za
Unfortunately, due to our terms and conditions we do not offer refunds.
All purchases/bookings made on Seatme are final.
The foyer doors will open an hour before the show and the bar will be open up to 10minutes before the show commences.
The bar will be closed for the duration of the show.